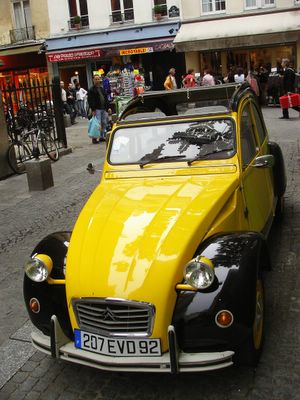 On the back of this superb 2cv there was a sticker saying: "
this is not a car, but a lifestyle!
". Funny. I'd like to take advantage of this post to explain the French licence plate system. The number on the left is just an incremental number (3 or 4 digits, depending on the number of letters). The letters are also incremental and they allow more or less to find out the year of the plate (ie, the first plate of 2006 in Paris had the letters
QLJ)
. And the two numbers on the right show the region: they go from 01 to 95, according to the
départments
(sort of counties or States). So here, I can tell you that this licence plate was issued in 1996 and that the owner of this car lives in the west suburbs of Paris! If you're interested check
this site
(in French).
No relationship with the photo, but I'd also like to take advantage of today's post to thank Kathy Cheng for her nice interview on her
They blog
blog. It's very rewarding when people think what you do is interesting enough that they want to know more about it.