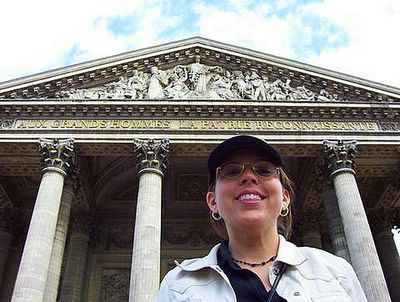 End of July, I received an email from a certain Erica from New York. She wrote a nice comment about this blog and also: "
I was proposed to, in May 2004, on top of the Eiffel Tower and enjoyed my trip immensely. I will send you a link to the photos we took during our visit. Feel free to use them on your site."
And she did! And although this way of proposing rings like a
Deja vu (!)
, I have found that her story was really cute and that since she was not going to appear in People Magazine, ParisDailyPhoto would make up to it!! By the way her fiance (well, I assume) took this photo in front of a building called Le Panthéon (5th arrondissement) a former church in which a lot of famous Frenchmen rest in peace.